Shortcake
is typically made with flour, sugar, baking powder or soda, salt, butter, milk or cream, and sometimes eggs. The dry ingredients are blended, and then the butter is cut in until the mixture resembles
cornmeal
. The liquid ingredients are then mixed in just until moistened, resulting in a shortened dough. The dough is then dropped in spoonfuls onto a baking sheet, rolled and cut like baking powder biscuits, or poured into a cake pan, depending on how wet the dough is and the baker's preferences. Then it is baked at a relatively high temperature until set.
The most
famous dessert
made with shortcake is strawberry shortcake. Sliced strawberries are mixed with sugar and allowed to sit an hour or so, until the strawberries have surrendered a great deal of their juices. The shortcakes are split and the bottoms are covered with a layer of strawberries, juice, and whipped cream, typically flavored with sugar and vanilla. The top is replaced, and more strawberries and whipped cream are added onto the top.
Quick Biscuit Strawberry Shortcake Recipe
10 mins only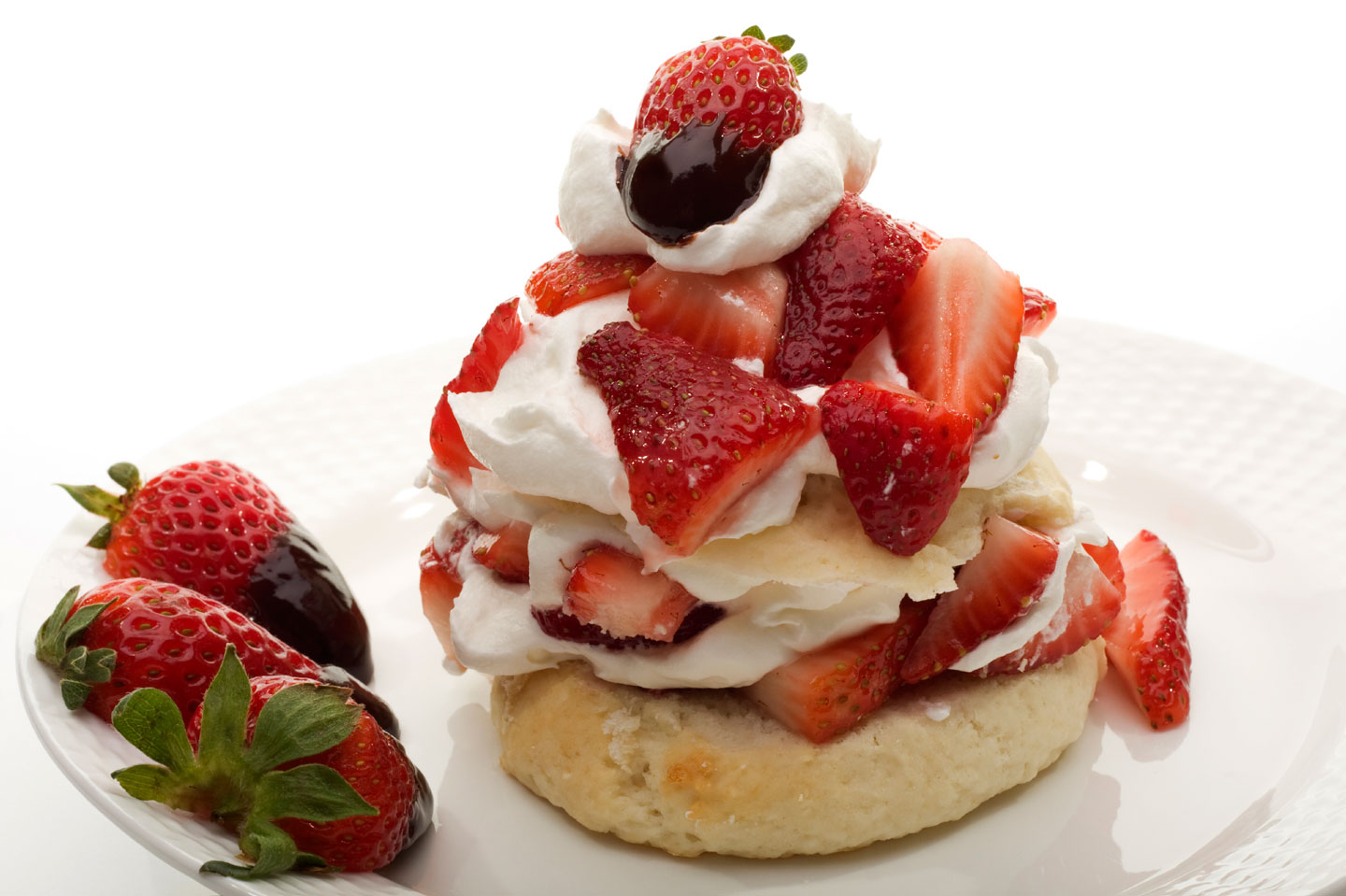 Ingredients
20 ripened strawberries
1/4 cup granulated sugar
1 tube biscuit dough (store bought, any brand will work)
1 cup heavy cream
1 tsp. vanilla extract
2 Tbsp. confectioners sugar
Directions
1. Preheat oven to 400°. Slice store bought biscuit dough into 1/2-inch rounds.
2. Place rounds on baking sheet lined with parchment paper. Place sheet in preheated oven for approximately 6 minutes, until golden brown.

3. While biscuits are baking, roughly chop strawberries and toss with granulated sugar. Set aside.

4. Put cold heavy cream, vanilla extract and confectioners sugar in a mixing bowl set over ice and whisk for 3 to 4 minutes, until desired whipped cream consistency. Do not over-mix, or whipped cream will turn to a butter-like consistency.

5. Place cooked biscuit slices on plate and top with sugared strawberries and whipped cream.
The video below shows How to make Peach Shortcake. Try it and enjoy!