This fruit smoothie
recipe
contains no sugar. It is healthy and refreshing and is packed with nutrients and antioxidants. For an energy-filled day have this for breakfast and feel light as ever. This berry banana smoothie recipe includes bananas and frozen assorted berries like raspberries, blackberries, and strawberries, as well as orange juice and low fat vanilla yogurt. Before they can be blended to make the smoothie the fruits need to be frozen. Not only is this super healthy, it also tastes absolutely heavenly. It is filled with so many flavors that you don't need to add any sweeteners. For a refreshing touch garnish with fresh mint leaves.
Peel the
bananas
first and then slice them into pieces before freezing and store in an airtight container that fits your freezer. Take the stems out of the berries and wash them well and pat dry. If you are using fruits with pits in them, take out the pits before freezing. In essence, the fruits need to be ready and prepared so that they can be placed in the blender straight out of the freezer once they have hardened. So that the fruits won't freeze into one big lump, which will make it hard to process, spread them out on a plate or baking sheet while in the freezer. However, make sure that they do not come in contact to any meat produce or seafood that can affect their flavor and fragrance. The fruits can all be stored in a freezer bag or container once they are frozen without them bunching together. More
healthy video recipes
can be found on the link.
You can add honey instead of sugar for a healthier drink if you think that the smoothie is not sweet enough to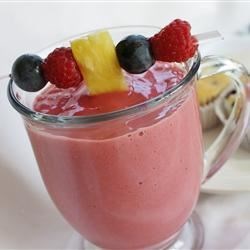 your taste, The essence of smoothies after all is that they should be a health drink designed for those who are on a diet. This berry banana smoothie helps aid in the digestion system. It is very good for the circulatory and immune system.

Ingredients

1 small banana, peeled chopped and frozen
52 oz. cup fresh or frozen assorted berries (such as raspberries, blackberries, and/or strawberries)
1/2 cup orange juice
3 tablespoons vanilla low-fat yogurt

1. Process the frozen pieces of banana, berries, orange juice, and yogurt in a blender, until a smooth puree. Then pour into cold, tall glasses.

2. Use fresh mint leaves and berries for garnishing and a banana slice, if desired.