Sautéed tiger prawns, salmon, and sea scallops are mixed with a thick and
creamy soup
made up of butter, onions, garlic, saffron fish stock, whipping cream, celery, rutabaga, carrot, sweet potato, cream cheese, flour, dill, chives, and pepper in this very rich and mouthwatering seafood chowder from Newfoundland.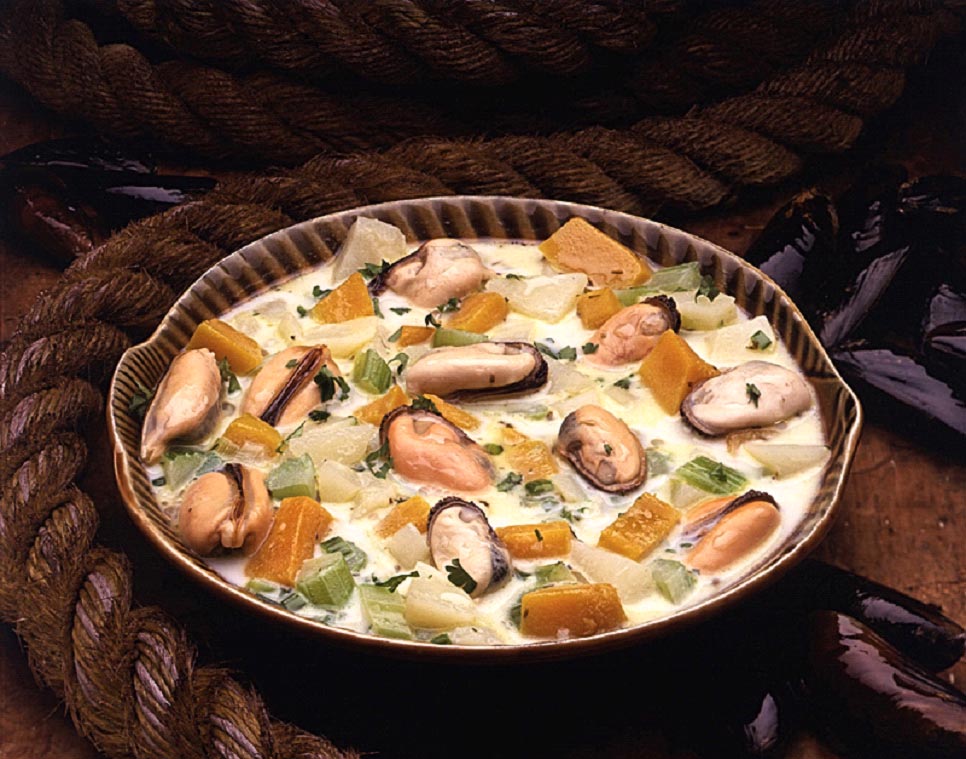 Ingredients:
2 Cloves of Garlic, Minced
1 ½ litres of saffron fish stock (or vegetable stock)
1 ½ tablespoons olive oil
6 Tiger Prawns, peeled and deveined
4 large fresh sea scallops
1 tsp finely chopped dill
1 tsp finely sliced chives.
Directions:
1. Melt butter in a large pot and add diced onion and minced garlic. Sweat onion and garlic for 3 to 4 minutes. Add flour to make a roux. Stir, until the consistency is a nice thick paste. Add saffron fish stock.
2. Heat 1 ½ tablespoons of extra virgin olive oil in a pan, and quick sauté the shrimp, scallops and salmon. Add whipping cream, and leave it in the pan, until the seafood and cream gets warm.
3. Add celery, rutabaga, carrot and sweet potatoes to the stock. Stir in the cream cheese, until chowder is nice and thick. Add the warm cream and seafood mix. Stir. Let the chowder simmer for another 5 or 6 minutes. Add dill and chopped chives. Season with salt and pepper.